Episode 109 | Recess is Over!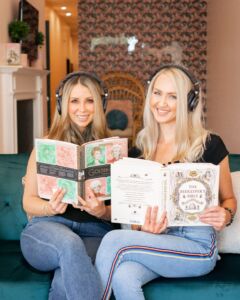 The Charm School Podcast is back from "recess" and hosts Annie and Jena are excited to not only be back in the recording studio, but more importantly back in their treatment rooms with their patients and clients. 
The COVID-19 pandemic was certainly not a part of Charm School's 2020 Vision Board, and just like the rest of the world, we too needed a break; a break to disconnect from social media, a break to re-align and assess our goals, and a break to take a much needed life pause during a time of uncertainty. 
It's with all the gratitude in the world that we are back and determined more than ever to joyfully serve the patient and consumer through top notch education and service excellence, all within a safe and loving environment.
So what have Annie and Jena been up to? One word: Self-care!
COVID Quarantine life proved to be a time where understandably one's mental health and faith were put to the test (and continues to be tested). Jena encourages listeners to "get out the rabbit hole- it's times like these where at some point we must use this as an opportunity to re-birth." And that is what both Annie and Jena have been in the pursuit of: a rebirth for both themselves and their brands, Skin Charm and Skinfit Aesthetics.
For personal self-care, Jena has been exploring the fascinating world of Astrology and the powers of crystals as an opportunity to dive deeper into her religion, spirituality, and faith. During quarantine, she came across a page on Instagram, @chriscorsini who provides guided meditation workshops that Jena has thoroughly enjoyed. Both Jena and Annie are self-proclaimed "manifesters" and have found journaling and meditating to be apart of their newly inspired rituals as well.
As the world continues to practice a level of social distancing, Annie has enjoyed reading books (while masking in her Farmhouse Fresh of course!).
Pajama Paste: https://skincharm.com/product/pajama-paste-soothing-active-yogurt-mask/
Mighty Tighty Banana Tumeric:  https://skincharm.com/product/mighty-tighty-face-mask/ 
Splendid Dirt: https://skincharm.com/product/splendid-dirt-nutrient-mud-mask-with-organic-pumpkin-puree/
We've also realized that to look good can simply sometimes just make you feel good. "If you can't tone it, tan it!" says Annie. While we do not promote outdoor tanning (a little Vitamin D is good however!), we are always on the hunt for safe self-tanner products. One of Annie's favorites is: these self tan drops.
We are so happy to be back on air and in studio! Recess is indeed over!
For more information on the services provided by Annie and her team, please visit: www.skincharm.com
For more information on the services provided by Jena and her team, please visit: www.skinfitaz.com