Episode 102: Chanel Molleo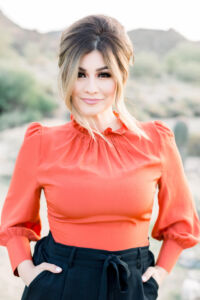 Makeup Artist, Chanel Molleo of Chanel Molleo Beauty Co. delivers the very best when it comes to beautiful makeup artistry and experiences for any occasion that is glam. In this episode, Chanel breaks down everything bridal and shares some of her tips and tricks when it comes to making her clients feel extra amazing on their special day. 
Where is Chanel located? Chanel is based in the greater Phoenix area, where both she and her team specialize in hair and makeup in the local wedding market. 
Chanel's Background: Chanel was a self-proclaimed product junkie that was makeup obsessed and found her one true love (makeup) while working a summer job at Nordstrom. Chanel started in the "Savvy" Department, and one day mustered up the courage to ask for an opportunity to work at the MAC Counter. The position was a natural fit and the rest is history. 
Chanel's Approach to Makeup/Glam: Molleo proudly proclaims "Less is Best". Chanel prefers to focus on the basics, and treat her clients with approachable, natural glam while highlighting their unique features. 
Chanel's Tips for Great Skin + Natural Glam: "(Topical + Internal) Hydration, Sleep, Vitamins, Moisturizer, Tinted Moisturizer, Concealer, Translucent Powder, and Peachy/pinky Blush. Some of Chanel's favorite Tinted Moisturizers include Laura Mercier, MAC BB Cream and some drug store finds (listed below). 
Tips to achieving the "Perfect Natural Eyebrow": To achieve the perfect, fluffy brow, Molleo recommends using an eyeshadow/powder brow product with an angled Brush, and finishing with a clear gloss/gel. 
Chanel's Favorite Drug Store Finds: Loreal BB Creams + Foundations and Mascaras, Elf Tinted Moisturizer, Maybelline Lipsticks, and both the NYX + Wet'n'Wild Brands. 
Chanel's Favorite Concealer: Tarte, "Shape Tape". Chanel claims "Light Medium Honey" and "Light Neutral" with a light translucent powder to finish, look great on most of her clients. If those tones do not suit your skin type well, she recommends getting color-matched by a professional that carries the product line (sephora, ulta). 
Favorite Primer: Both Chanel and the girls agree, silicone-based (dimethicone) primers are best for smoothing, filling in fine lines, and prepping the skin for a beautiful makeup application. Annie recommends SkinMedica's HA5 as it is both a hyaluronic acid and silicone based product that not only preps the skin, but packs the hydration. 
Chanel's Favorite Splurges: La Mer The Moisturizing Soft Cream, NARS Longwear line, Georgio Armani Foundations, and Charlotte Tilbury Powders.
When it comes to planning ahead for your wedding day: Chanel recommends planning ahead when it comes to booking your make up artist! Be sure to book a trial as soon as possible (like, right after you get engaged) and don't wait until just before your wedding day to ensure locking down the artist of your choice. In fact, some artists even won't book a bride's wedding day until they book a trial. 
We loved getting to chat all things beauty with Chanel. If you have any further questions or want to get in touch with Chanel, you can find her on Instagram  @ChanelMolleoBeauty  or at her website www.ChanelMolleoBeautyCo.com